Quality Diet for a Healthy Pet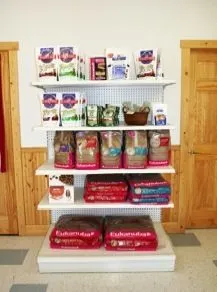 In today's world finding a well balanced appropriate nutritional program for your pet is perhaps more difficult than ever before in history. It indeed is a slippery slope, flooded with misinformation and marketing maneuvers so magnificent that other countries like China have joined in the mix. We witness many jumping into a market that has evolved in to a multi-billion dollar industry. In a declining economy we can even see 'home improvement' big block stores offering, magically it may seem, pet supply and wellness aisles.
So as a responsible pet owner we must try to navigate through the smoke screen of marketing to achieve our objective of quality sources of nutrients, well-balanced diets, breed specific needs, life-stage nutritional requirements, activity/performance level needs, with a commitment to quality and quantity of our pets life.
Excerpt from Small Animal Clinical Nutrition regarding
Malnutrition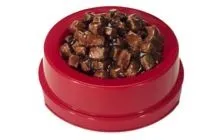 "Malnutrition is defined as any disorder of nutrition with inadequate or unbalanced nutrition. Many animal owners think only of nutritional deficiencies when thy hear the term malnutrition. Muscle wasting and distended abdomen in a starving third-world child or a heavily parasitized puppy is often our first mental image of malnutrition. In first-word societies, however, malnutrition is usually due to over nutrition or excessive intake of nutrients. Obesity due to consumption of excessive levels of fat and calories is a common example of malnutrition in both people and their pets. Another example of malnutrition due to unbalanced nutrition is the developmental orthopedic disease seen in rapidly growing large and giant breed puppies as a result of excessive calcium and energy intake. Malnutrition due to either nutrient deficiencies or nutrient excesses can be harmful to dogs and cats."
While choosing a well balanced appropriate nutritional plan take a minute and be very honest with yourself while evaluating your pet.
-- Evaluate your pets' body condition (thin- ideal- overweight).
-- Evaluate your pets' life-stage/medical nutrient needs.
-- Evaluate your pets' innate activity level/metabolic requirements (how many calories do they need to burn)
Then seek a reliable, well balanced , safe source of nutrients preferably designed by Board Certified Animal Nutritionalists with published research, rather than endorsed by trends, celebrities, and television advertisements. Clients at Dayton Valley Vet have heard our doctors say time again that there is not one 'brand' that is best for every pet. Nutrition must be based on what meets your individual pets' needs the best.
Please consult a veterinarian if you have any questions. Remember in practice 80% of all the pets we see are "over conditioned/obese" leading to a plethora of clinical and medical issues.